GHGA draws its strength from bringing together experts in the fields of genomics and biomedical research, paired with expertise in legal and ethical challenges in health care as well as a talented team of IT experts. This is being made possible through contributions from the great number of institutions involved in GHGA, and most importantly through its team members.
To be able to steer the consortium towards our ambitious goals and coordinate all activities on various levels, several governing bodies were set in place.
Internal governing bodies
The consortium is coordinated by a Board of Directors (BoD) consisting of three elected members and the Spokesperson. The Spokesperson (or their deputy) represents GHGA in the NFDI Consortia Assembly and in the NFDI directorate.
The Steering Committee consists of the elected spokespersons of all workstreams and their deputies. In regular meetings, the Steering Committee ensures that the priorities across all workstreams remain aligned.
The Operations Committee consists of experienced team members (and their deputies) who have taken on the coordination of the day-to-day business and all hands-on work of the workstreams. This committee ensures that the decisions made by the BoD and Steering Committee are being implemented.
The BoD presents plans and achievements to the Members Assembly in areas such as GHGA leadership, governance, finances, regulations or organizational structures. The Members Assembly includes all funded institutions via their co-spokespersons and participants.
External governing bodies
Scientific Advisory Board (SAB)
GHGA as a whole is advised by a Scientific Advisory Board (SAB) consisting of internationally renowned scientists involved in research data infrastructures and international initiatives with direct relevance to GHGA. The SAB provides strategic input and supports international interactions with relevant infrastructures and initiatives.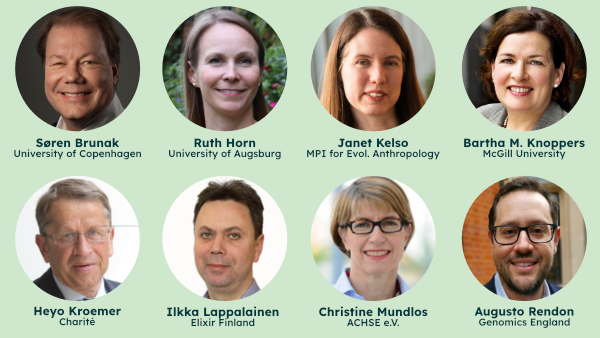 Although GHGA's mission is to develop an infrastructure to enable the use of (gen)omics data for research purposes, we greatly value input on all aspects of our platform by the people who make this possible by consenting to allow the use of their data. Therefore we engage patients and patient support groups in dedicated activities to gather their feedback and opinions on our activities.